Founded in 1975, Hiyas is the jeweller who knows jewelry that holds deep meaning to our clients. We will work with you and give you our best concepts and ideas in designing your exquisite piece. 
Every one of our clients is a VIP. We believe designing jewelry means creating a beautiful piece that will soon become our clients family heirloom, the design should have the story that can be carried on from one generation to the next.
At Hiyas Jeweller, clients are assured to have the best brilliant and one of a kind handmade jewelry.
Imelda Bañas Villacorta founder of Hiyas Jewelry some 43 years ago, is a woman of exquisite zest for life and immeasurable faith. She exudes that kind of optimism and love for anything beautiful, tangible and intangible, which beholds not only the human eye, but also the heart. Her designs should fit the weaver perfectly, nothing less. A piece of her art goes from one decade to another. It's like owning a hundred pieces of jewelry due to its classic shapes and perfect craftmanship. She may be born way ahead of us, but her philosophy in life encompasses all generations. She's a classic epitome of a nurturing wife and mother. If you take a good look at her design, it glistens with beautiful stones mostly rare finds from our own natural resources, combined with skillful dexterity of our very own Filipino blacksmith. Indeed something we can all be very proud of, enough to face tough competition anywhere in this planet.
Her passion for gems and stones started when she was 7 years old, she remembers how she would watched her grandmother design jewelries and how she waited patiently until she's done because its a signal for her to clean up the gems and stones scattered on the table, she calls that her sweet time, a wonderful chance for her to experiment jewelry design at a n early age. Until now, her time with her jewelries are always a beautiful experience.
She beams with pride showing her array of beautifully crafted pearls and diamonds. Hiyas clientele consists of socialites and celebrities who have a knock for one of a kind jewelries and exclusive designs.
"Villacorta's years of experience in jewelry-making is evident in the intricacy of their designs and in the precision of stone settings."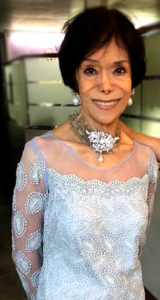 "I get my inspiration from the curves of many things… like the curves of the leaf stem, for instance. They say when you're close to nature, you're close to God. Before I design jewelry, I meditate. I pray."
"Designing jewelry has always been my passion. I couldn't imagine doing otherwise. My clients have become my closest friends through the years. The more I get to know my clients, the more I get inspired through their appreciation and patronage. I am very grateful to my mom who guided me like her protege through her relentless support"